BLACK FRIDAY SALE
Unbeatable deals, unforgettable gifts
FEATURED CATEGORIES
Proud to be an authorized dealer of Black Hills Gold Jewelry since 2006
Your Trusted Source for Black Hills Gold Jewelry since 2006!
Black Hills Gold Source has the best selection of Black Hills Gold and Silver jewelry available, made in America only steps from the Black Hills National Forest for over a century. Since 1878 Landstroms has been making the best quality of Black Hills Gold men's and ladies rings, traditional bracelets, classic earrings, time-honored necklaces and stunning watches.
Landstroms also makes a complete line of specialty jewelry as well, from family birthstone rings and pendants to wedding rings and bands. From quality heirloom jewelry to a beautiful gift for your loved one, you'll find exquisite Landstroms jewelry to meet all of your needs.
You have a choice in online jewelry stores and it's important to shop with someone you trust. As Landstroms' #1 online outlet, we offer the best selection, lowest prices, unmatched customer service and FREE shipping, plus Landstroms' Limited Lifetime Warranty.
Satisfaction Guaranteed
Not happy with your purchase? No Problem. Our money back guarantee means you can buy and not worry.  Returns accepted within 30 days of purchase.
100% Secure Transactions
Our shopping cart is protected by industry standard SSL encryption technology. We will never sell any information collected from our customers.
Customer Service
If you're looking for a Black Hills Gold Necklace or Pendant and you can't find it, PLEASE CALL or Email Us!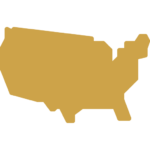 Made in America
Made in the Black Hills of South Dakota for over a century.